Byways of Iowa Public Art Initiative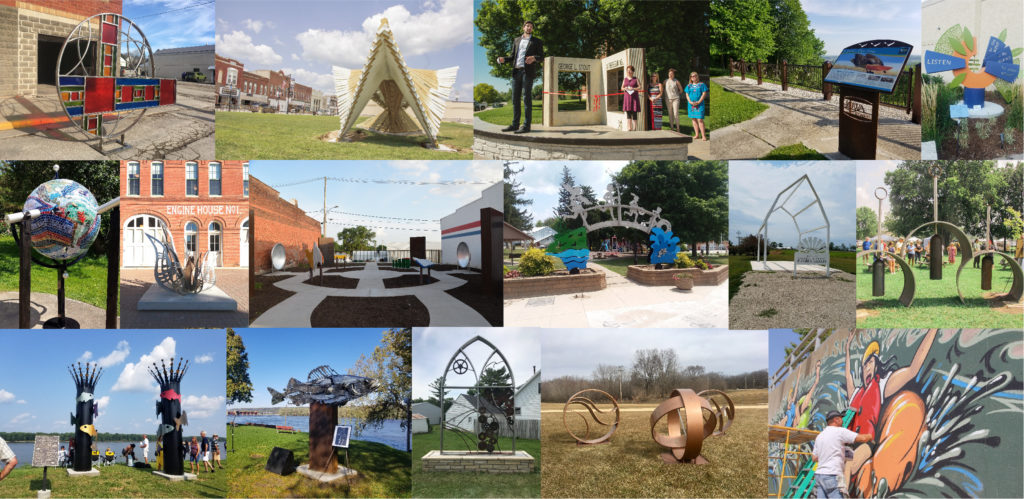 Download the Byways Art Tour Brochure HERE!
The Byways of Iowa Public Art Initiative began in 2014 with an interest from Byway stakeholders across the state of Iowa to expand opportunities to experience authentic local art, culture, history, music, and food. These stakeholders are part of a collaboration known as the Byways of Iowa Coalition. The Coalition is made up of representatives and coordinators from 10 state scenic byways, 2 national scenic byways, and 2 heritage byways across Iowa, who work together to promote Iowa's Byways and develop and lead projects that improve and expand upon the intrinsic qualities and resources in byway corridors throughout the state. The Coalition works collaboratively with the Byways of Iowa Foundation, a 501(c)3 nonprofit organization, to protect, enhance and promote cultural, natural, and scenic resources along Iowa's byways, fostering authentic experiences with byway partners and communities to increase visitor-related economic development.
To work to expand local art experiences and opportunities in byway corridors, Northeast Iowa Resource Conservation & Development (RC&D) applied for funding from the National Endowment for the Arts: Our Town program to support development of 16 public art installations in Iowa. This application was supported by a matching funds commitment from the Byways of Iowa Foundation to raise up to $5,000 in matching funds for each project. The grant was received in 2015 and since then, byway coordinators throughout the state have been planning, fundraising, and supporting installation of public art pieces in 15 rural Iowa communities.
The art concepts for each of the 17 installations were developed through a creative and engaging process involving stakeholders within each community such as city officials, community members, scenic byway board members, and local art organizations. This planning process was led by a local project coordinating entity for each community and encouraged creative place-making by choosing artistic themes that would feature the distinct character and quality of each community. Local planning entities for each project were Resource Conservation & Development organizations, local chambers of commerce, and local museums of art. Each community posted an open call for artists for each of their projects, and through partnership with their local project coordinating entity, hired Iowa-based artists to develop, fabricate, and install their unique public art pieces in their downtown districts.
Together, the 17 art pieces throughout Iowa create a body of art that epitomizes the culture and character of 15 small Iowa communities along Iowa's scenic byways. Byway coordinators throughout the state will market these pieces as a whole to encourage visitors to travel to these 15 rural Iowa towns to see the art in person and in turn, boost economic development for those communities.
Over $250,000 has been raised through the support of over 100 private, local, state, and federal contributors for this project, all of which went into local coordination by 6 coordinating entities, design and fabrication by 11 Iowa artists, and installation in 15 communities. Some notable statewide contributors include the Byways of Iowa Foundation, Casey's General Stores, Iowa Arts Council (Iowa Dept. of Cultural Affairs), Iowa Byways™, Northeast Iowa RC&D, and National Endowment for the Arts.
Governor's Arts Award: Northeast Iowa RC&D received the 2020 Governor's Art's Nonprofit Award for the success of this project!
Project Locations